With a lot of quizzes, surveys, and contests that allow our users to earn points on Vantage Circle website, we thought why not introduce a points system where users could utilize their earned points and buy online vouchers from their favorite brands, that too – without paying a penny. Vantage Points is where you go to reward yourself after a hard day's play!
We also provide Vantage Points upon making successful purchases from various e-Commerce sites like Amazon and Flipkart through Vantage Circle website. At present, we offer Vantage Points up to 15% of the transaction value when you shop through your employee privilege Vantage Circle portal. All this is in addition to the various discounts that are already running on our website!
Vantage Points are calculated on the basis of percentage against the total price of the products you purchase from our affiliate website. For e.g if you purchase a shirt costing 1000 INR at Amazon from clothing category, you will receive 150 Vantage Points. The points are processed as soon as we receive confirmation from our affiliate partners about your purchase. Every deal has its own percentage, and terms & conditions to receive Vantage Points. Kindly read the conditions to get appropriate points for your purchase.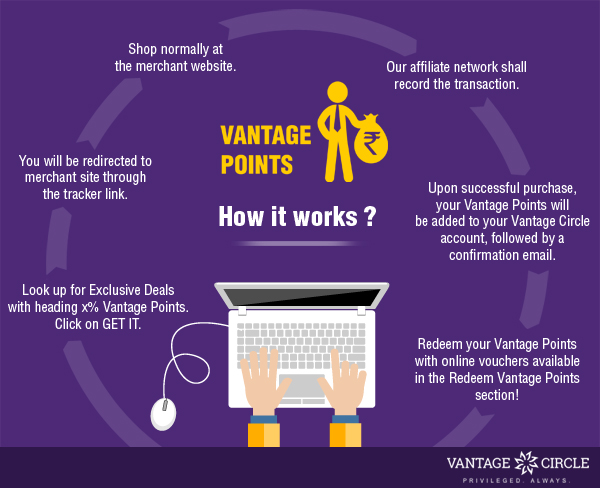 In order to know more about Vantage Points please visit our detailed FAQs section that answers all the queries which you may have.