Vantage Circle vs OC Tanner
Competitors
4 MIN READ
Last Updated On 27th September 2021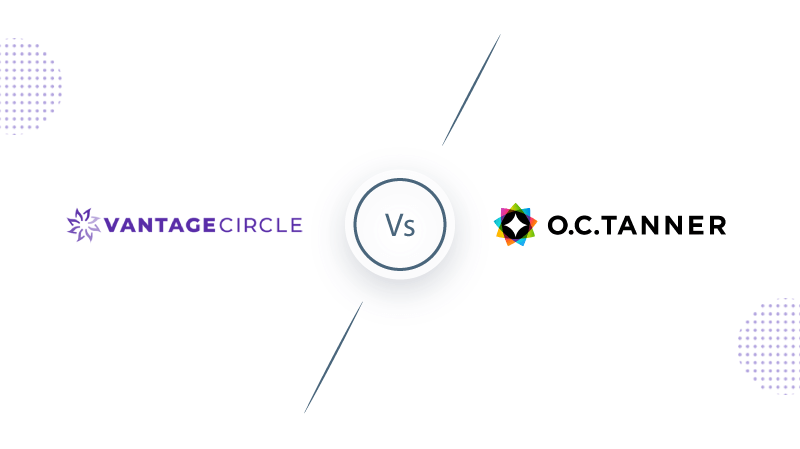 This article will help you get a detailed idea about why Vantage Circle's AI-powered and SaaS-enabled employee engagement solution is the best alternative to O C Tanner.
About O.C.Tanner
O.C. Tanner is a strategic employee recognition and rewards solution designed for large-scale companies and global workforces. In order to make workplaces the best places to work, they strive to provide excellent customer experiences.
The company's cloud suite of service awards, employee recognition programs, and other culture-building solutions encourage and inspire millions of employees worldwide and manage employee engagement efficiently. It improves workplace cultures through personalized employee recognition solutions, so people feel appreciated and enhances employee performance.
Clientele
O.C Tanner's client base includes Taco Bell, American Airlines, Tech Mahindra, Wells Fargo, and more.
About Vantage Circle
Founded in 2011, Vantage Circle is an all-in-one employee engagement platform that combines four powerful AI and SaaS-based solutions to help companies retain, satisfy, and boost employee engagement levels.
Vantage Circle is based on the simple principle of making employee engagement more powerful yet easier to run, manage, and track. The four solutions address the major areas of engagement, namely— Vantage Rewards (employee rewards and recognition), Vantage Perks (employee discounts program), Vantage Pulse (employee survey), and Vantage Fit (corporate wellness).
Key Features
1. The recognition software runs on intelligent frameworks such as SOLI, which provides an equal and instant reward for global workforces, and the AIRe framework, which combines Appreciation(A), Incentivization(I), and Reinforcement(R) to provide more meaningful Total Employee Recognition.

2. With our peer-to-peer reward nominations, panel nomination, and reward approval workflows, users can customize the rewards and recognition process to the organization's specific requirements, such as selecting the rewards approvers and nomination panel, who can allocate reward points, and many more.

3. Vantage Circle simplifies the Rewards and Recognition program management by providing multi-level views, permissions, and analytics. Not only admins but even managers and employees can gain valuable insights and metrics directly from their dashboards and track progress.

4. A robust employee discounts platform that offers exclusive deals, cashback, discounts, and other perks on a global catalog of top brands and services.

5. Vantage Circle provides the ability to integrate with the organization's existing HRMS easily. To top it all off, our Microsoft Teams and Slack integrations allow employees to appreciate their peers directly from their chat applications.

6. Admin dashboards and pulse surveys generate insightful reports while also tracking employee trends, behavior, and engagement metrics in real-time.

7. A robust employee discounts platform that offers exclusive deals, cashback, discounts, and other perks on a global catalog of top brands and services.

8. Vantage Fit, our gamified corporate wellness solution, uses high accuracy machine learning models to assist employees in tracking their overall well-being via a mood-o-meter, nutrition & water intake tracker, daily activity tracker, heart rate tracker, guided meditation sessions, and many more.

9. We have assisted clients in migrating from major providers such as Workhuman, OC Tanner, BI Worldwide, Kudos, Awardco, Xoxoday, Bonusly, and others. We not only migrate your existing points, but we also assist in the setup of the workflow, either as it was migrated or revamped in accordance with industry standards. This has enabled us in retaining every single one of our clients.
Clientele
Vantage Circle's client base includes Infosys, Capgemini, GE, Cognizant, Landmark Group, TATA group, Paypal, and many more.
Ratings
Ratings
Software Advice Score
4.5/5
What makes Vantage Circle the best alternative to O.C. Tanner?
Vantage Circle is an AI-based employee engagement software that helps you to build a more authentic and impactful recognition experience for your workforce. Despite its low cost, Vantage Circle includes all of the major features and more— such as assigning delegation and a social feed engagement score. This is what makes Vantage Circle a great alternative to O.C. Tanner.
See Also: Bonusly, AwardCo, Rewardgateway, Xoxoday, Achievers, Kudos
Get started and give your workforce the best employee experience like never before