VANTAGE

REWARDS
Recognize, Motivate, and Engage
Through impactful Rewards & Recognition, say goodbye to employee disengagement & lower productivity with our SaaS platform, Vantage Rewards
What can a lack of employee
Rewards and Recognition
tool cost you?

Missed opportunities and lack of flexibility to reward employees with manual R&R process

Additional time consumption in manually tracking and recording employee recognition

Tedious logistics of physical trophies, plaques, and certificates

No meaningful social interaction among employee peer groups

Lower job satisfaction & high turnover due to inconsistent recognition of dispersed & multicultural workforce
You are now one step away from fostering a dynamic culture of recognition
Features

that meet your
Rewards & Recognition needs

Onboard a scalable & innovative platform designed to meet your organization's goals.
Onboard today and experience the difference.
Acknowledge the efforts of your workforce with flexible Social Recognition
Our user-friendly program allows you to cover the recognition needs of a global workforce with flexible monetary and non-monetary rewards. Social recognition enables your employees to acknowledge each other's achievements and contributions, making everyone feel valued and appreciated, thereby fostering a culture of peer-to-peer recognition.
Never miss an opportunity to make your employees feel valued
Appreciation is one of the most powerful ways to motivate your team members. Identify and seize every opportunity to make your team feel valued and motivated, leading to a happier and more productive workplace.
Streamline your HR processes with our intuitive Dashboard
Our intuitive and easy-to-use dashboard simplifies HR management, saves time, and provides HR professionals with a comprehensive view of their recognition program with advanced admin roles, budgeting and allocation tools, and rewards and badges configuration. Additionally, it allows you to generate detailed reports to keep track of your recognition program's progress.
Give your employees a flexible redemption with our global Rewards Catalog
Let your employees enjoy a seamless redemption experience with culturally relevant & locally redeemable options. With our global Rewards Catalog, employees can exchange their reward points for gift cards from 1000+ brands and products from Amazon Store, book an experience from the Experiences section or buy merchandise from the Merchandise section, available across 59+ countries.
Celebrate your employees' loyalty with automated Long Service Awards
Long Service Awards are a great way to honor and recognize your tenured employees for their loyalty and dedication. Our Rewards & Recognition program offers a range of benefits for these special employees, including Anniversary points, a printed and Digital Service Yearbook, and the ability to choose a reward of choice from the Milestone catalog.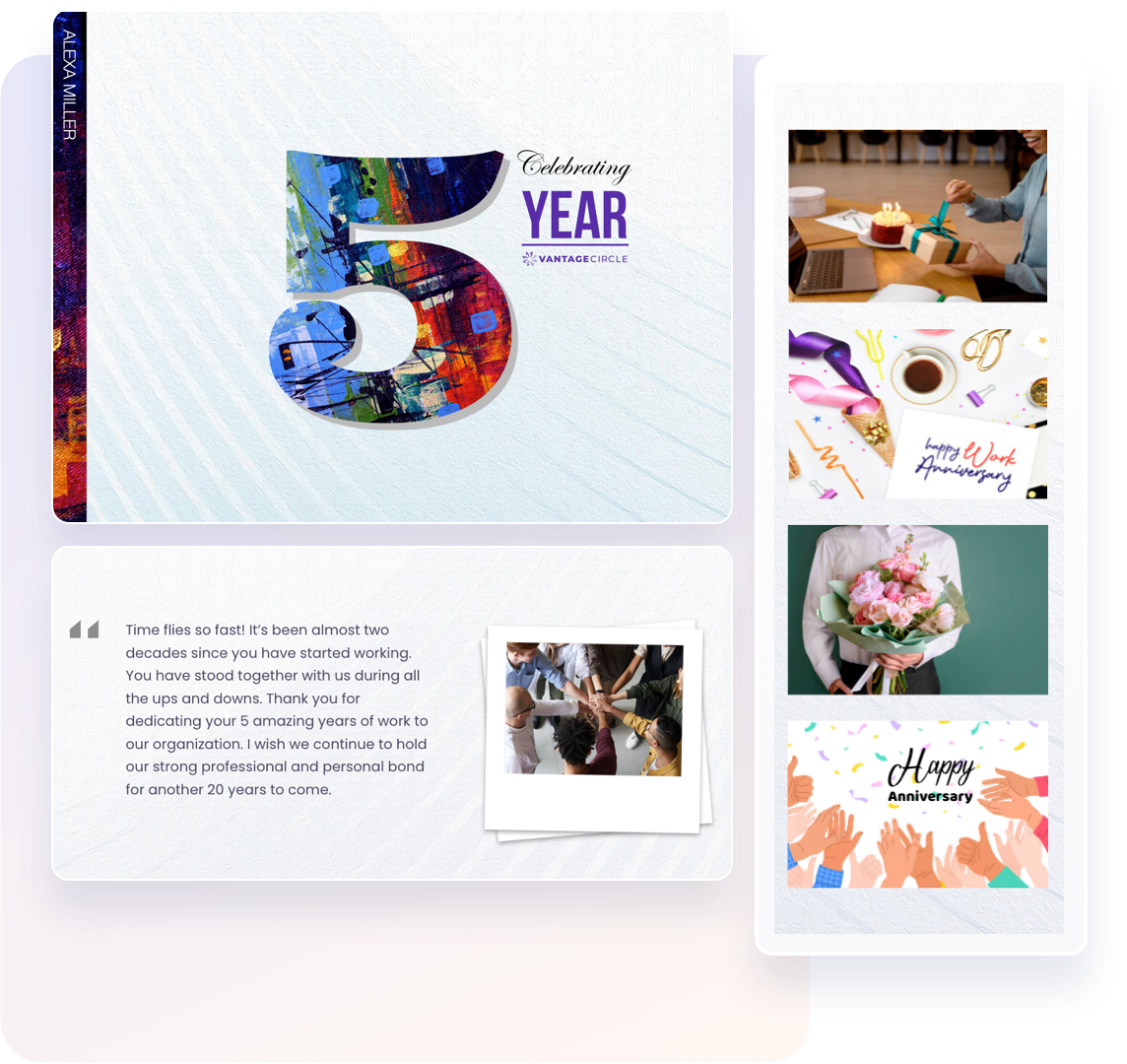 Effortlessly integrate into your existing tools for maximum impact
Avoid the hassle of change management and effortlessly integrate with the tools you use every day. Being the preferred partner for Microsoft Teams, People Strong, and many other HRMS/HCM, Chat Collaboration Tools, we give you a seamless Integration experience for, streamlining your employee recognition program and making it even more impactful & efficient.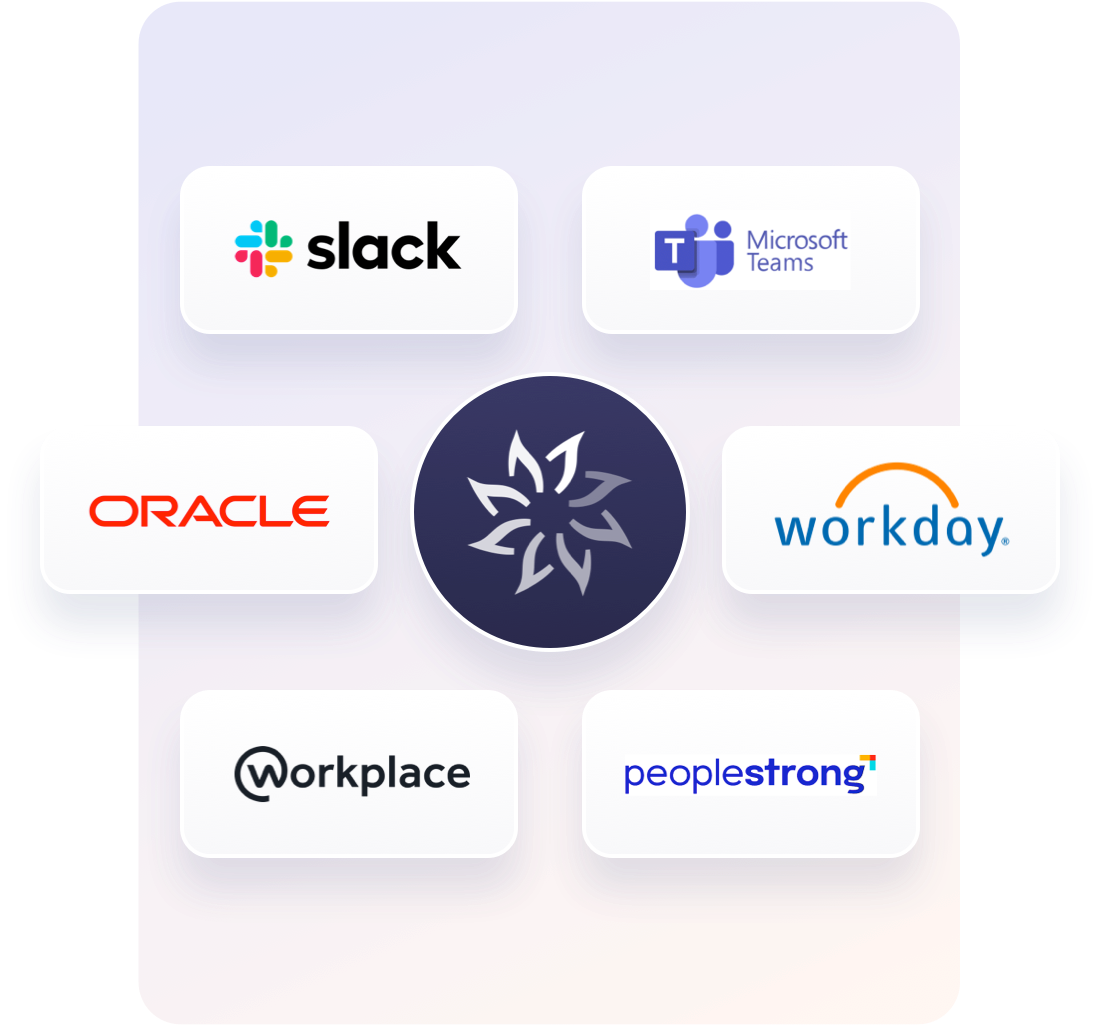 More reasons to choose
Vantage Rewards
Fun and easy to use
Mobile & web application
Easy budget management
Available in 16+ languages
Panel & Team awards
24X5 customer support
Center of Excellence team
Product adoption program
Dedicated client success team
Try our AIRe self-assessment tool for checking the impact & authenticity of your Rewards & Recognition Program
Check AIRe score