Vantage Circle Is Excited To Announce Its Newest Partnership With Adrenalin eSystems Limited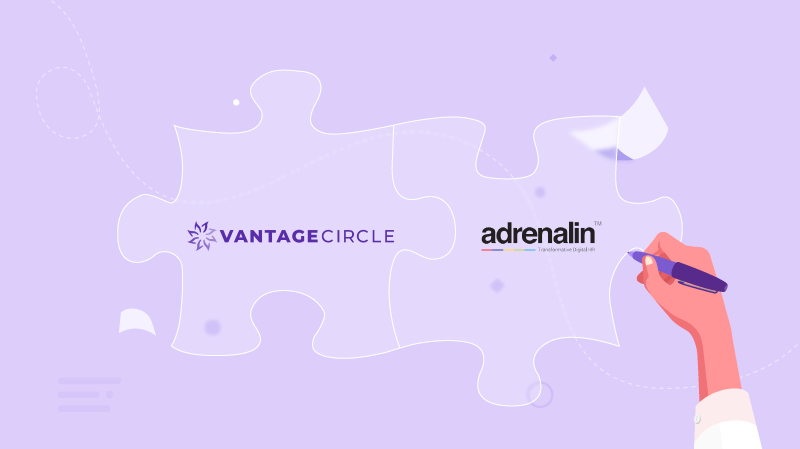 Making people management simpler is a challenge that not everyone can overcome. And, in order to create a system that is both flexible and modern, Vantage Circle has now partnered with Adrenalin to provide organizations with a robust and advanced employee engagement and HCM tool. And we are overjoyed to share the news.
The Modernizing World and People Management
People management has come a long way since its inception with the help of digital transformation and modernization. The most critical factor in the present generation has been the existence of tools and software that make people and HR management easier than ever before.
The most significant change came when the COVID-19 pandemic hit the world. With work from home prevalent worldwide, there was an immediate need for systems that enhanced HR processes and elevated the employee experience in a new work setting.
Keeping that in mind, the aim of Vantage Circle and Adrenalin is to develop a system that automates the process of employee management while helping organizations to become people-centric without any hassle.
The Requirement for a Platform Centered on Human Capital Management and Employee Engagement
Human capital management is a vast subject that has many branches. Fulfilling every need for human capital management is a daunting task. However, pinpointing the main and critical areas can do wonders. Not only can it bring drastic changes in a positive manner, but it will also make the work environment a better place. Some of the key changes/developments that a platform centered on HCM and employee engagement can bring include-
A more dynamic and flexible workforce that emphasizes employee empowerment.
An automated rewards and recognition system that minimizes human error.
A powerful approach towards providing good employee well-being for superior business agility.
Building a work culture that understands employee behavior to provide employees with an excellent work experience.
Building a communication bridge between employees and the higher management for a smooth work environment without any conflicts.
What does this Partnership Mean in the Corporate World?
Employee engagement and employee experience are inextricably linked. It is difficult to provide the best employee experience without proper engagement efforts. And, as the corporate culture shifts toward creating an employee-centric work environment, it is critical to find ways to incorporate both employee engagement and experience.
Keeping this in mind, Vantage Circle aims to improve employee engagement by providing businesses with a robust reward and recognition system that is simple to use and interactive. On the other hand, Adrenalin is more focused on automating HR processes that will improve and seamlessly elevate the employee experience.
The collaboration aims to strengthen an organization's work culture, management functions and improve the overall involvement with employees.
Key Highlights of the Collaboration-
A people-first culture with a robust rewarding process– Now reward and recognize your employees on the go with the help of a mobile-first and user-friendly platform.
Encourage Peer-recognition in your organization- This collaboration will enable the employees to appreciate and acknowledge their fellow workers for any accolades or achievements.
Get to Know Your Employees with Pulse Surveys– Understand how your employees want to shape and envision their workplace with employee-centric surveys.
Prioritize Employee Wellness– Managers can now handle employee-centric surveys and understand their version of work culture.
Focus more on Data– With the help of the integration, you can now focus more on good people management and organizational initiatives that will improve employees' health.
Make the onboarding process easier– With the help of the partnership, you can now change your approach while onboarding candidates in a strategic manner and providing them with the best experience.
What do the CEOs have to say about this Collaboration?
"Adrenalin's understanding to address, nurture talent and grow individual employees without compromising with organizations' growth, rightly aligns with Vantage Circle's attempt to present a solution to solve a problem pertaining to better workforce management. We believe, through this partnership, we will be able to enhance employee experience," says Partha Neog, CEO and Co-Founder of Vantage Circle.
Srinivasa Bharathy, MD & CEO, Adrenalin eSystems Limited, said, "We are delighted to partner with Vantage Circle, an established brand in employee engagement solutions. Their sound understanding of how solutions can play an impactful role in enhancing employee productivity during the employee lifecycle is excellent. With the Vantage Circle's suite of solutions coupled with Adrenalin's suite of HRM applications, we see this as a win-win collaboration, not only for both organizations but more importantly for our customers who will stand to benefit."
Conclusion!
The collaboration is focused on creating a work culture that promotes employee empowerment without jeopardizing the overall employee experience. This will allow organizations to easily automate their people management efforts and create a work environment that employees will enjoy working in.
Find Out How Vantage Circle Works