Microsoft Teams

Integration

Boost collaboration and drive engagement levels of your team
with the help of Microsoft Teams and Vantage Rewards.
Microsoft Teams make the recognition process easy and simple while keeping the workforce involved and confident. With Microsoft Teams and Vantage Circle integration, we aim to provide you with the best Rewards and Recognition platform with a friendly user experience for better employee engagement.
To know more about the integration, click here.
Watch the video
Tutorial: How to install & configure Vantage Circle's Rewards and Recognition Platform inside Microsoft Teams.
What can you do with Microsoft Teams Integration?
Appreciate
Now appreciate your peer in the form of non-monetary awards with different badges to boost their morale.
Nominate
Nominate your peer for a job well done in the form of monetary awards and give away Vantage points at your convenience.
Social Feed
Elevate the employee experience levels with our user-friendly and dynamic social feed on the go.
Approve and Decline Nominations
Managers can approve or decline any nomination to maintain a smoother rewards process.
Leaderboard
Easy accessibility of the leaderboard to keep check of the employees that have gained the highest number of awards.
Accessibility
Users have the flexibility to access the integrated Microsoft Teams through the website and mobile application.
MS Teams
how to

video

Tutorial: How to start Appreciating & Nominating using Vantage Circle inside Microsoft Teams
Redeem
Vantage Points

into Gift Cards

Now redeem Vantage Points on the go and convert them into Gift Cards from a wide range of global catalogs.
Added bonus: Employees never have to worry about the expiration of Vantage Points.
Collaboration
Unites

Team and

Motivates

the Workplace

Make appreciation a part of your organizational culture with Microsoft Teams and Vantage Circle. It's easy, effortless, and rewarding.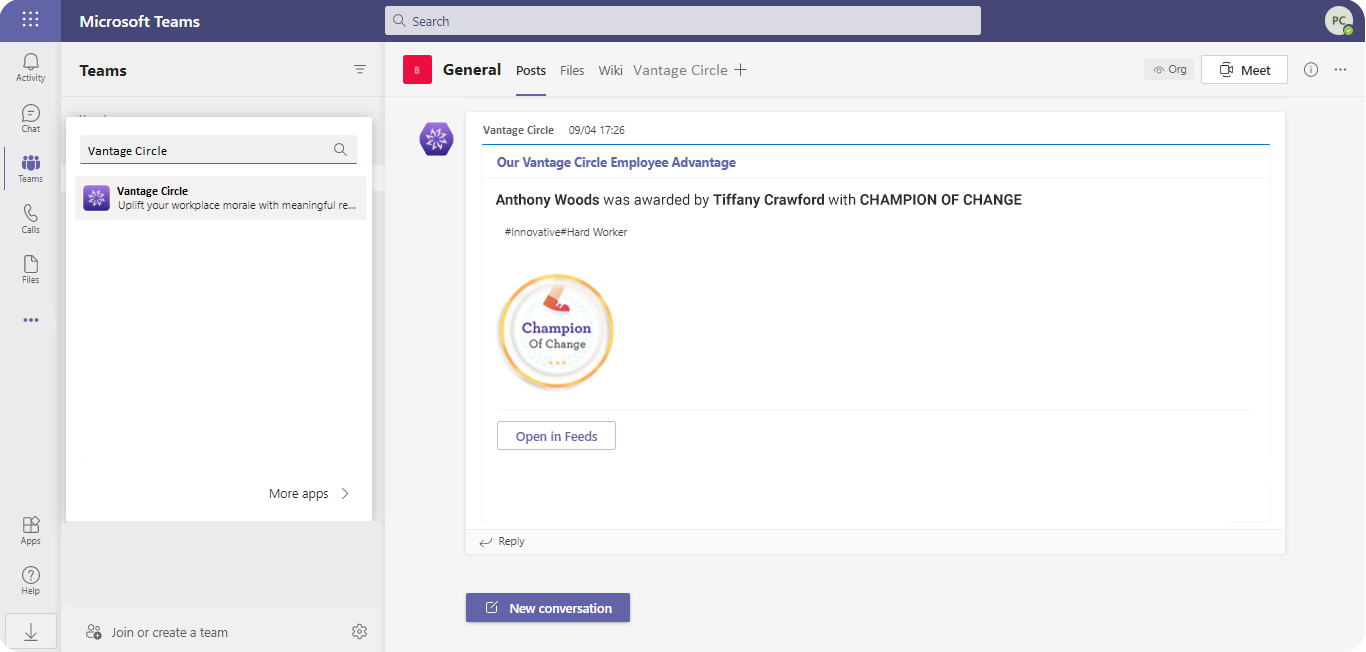 Quick Appreciation
Nominate your peer for a job well done in the form of monetary awards and give away Vantage points at your convenience.
Prompt Awarding
Build your employees' morale and with flexible employee recognition and rewarding processes.
Hassle-Free Integration
Optimized integration process to onboard your teams in a fast and seamless way.
Open Communication Channels
Stay connected with your team and promote collaboration for greater accomplishments.
Encourage Engagement
A user-friendly interface for a smooth experience that enhances engagement levels.